Online Support
VitourHanoi 003
Hotline: +84-4.62701639

Tours Discount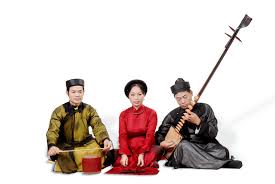 CA TRU SINGING
Ca Tru is unique with its private art performing space, musical instruments and distinct style of poetry. According to folk artists, Ca Tru has 56 different musical forms or melodies, each of which is called the cach
Ca Tru has many names, depending on each locality, each period of time, it is also called A dao singing, Cua dinh singing, Cua quyen singing, Co dau singing, Nha to singing, Nha tro singing and Ca cong singing. This is a long-standing and unique form of art which has special meaning in the musical treasures of Viet Nam, associated with the traditional festivals, customs, religions, literature, music, thoughts and philosophy of the Vietnamese.
The Ca Tru singing was assessed in the heritage records as follows: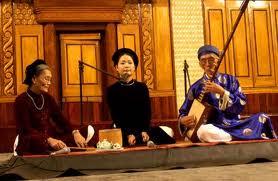 Ca Tru, which dates back to the 15th century, was performed attach in a cultural diversity space during different historical periods. Ca Tru showed a sense of identity and continuity in the art performances, being innovative and transmitted between generations by professional music guilds known as Giao phuong. These guilds have maintained the close relationship communities, forming characteristics of Ca Tru. Although undergone many social and historical changes, Ca Tru has still kept distinct vitality due to its art value in the Vietnamese culture.
Ca Tru is unique with its private art performing space, musical instruments and distinct style of poetry. According to folk artists, Ca Tru has 56 different musical forms or melodies, each of which is called the cach. The singing technique is very sophisticated. The singers have to practice in very painstaking and meticulous manner. Streamlined instruments with timbres in contrast have elevated the beauty of each performing participant.
Ca Tru performing is involved by at least three people:
- A female singer (called "dao" or "ca nuong") both singing and playing the phach (which is made of bamboo or wood. It is struck with two hard wooden beaters, one of which is split into two so it creates a different slightly higher pitched sound.)
- A male instrumentalist (called "kep") playing the dan day three-stringed lute (which has 3 strings and 10 frets.)
- And a person beating the trong chau or "praise drum" (called "quan vien" - a musician from the group of Ca Tru singer and instrumentalist or sometimes is the composer of the lyrics.) The praise drummer is a connoisseur of Ca Tru. The rhythms the drummer plays mark the end and beginning of different sections and phrases of music and he also uses particular drumming patterns to show his appreciation of the music and the performers.
The "dao" sits in the middle of performing mat. The "kep" and "quan vien" sit near by in two sides. Ca Tru performing space is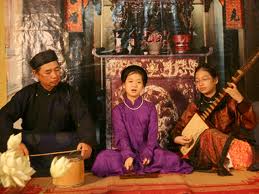 quite small and the participation from the audiences is very essential.
Ca Tru singing is an art form of sung poetry with a rich collection of songs reserved for each functions as Hat tho(worship singing), Hat thi (competitive singing), Hat choi (singing for entertainment). Lyrics of Ca Tru songs have scholarly nature, much meaning with few words, rich in poetry with lots of thoughtful and profound emotions. Ca Tru which consists of all genres from lyric and romantic songs to epic, philosophic, teaching ones…, has attracted the participation of many scholars and poets in experience their talents and compose poems for Ca Tru. One cannot see all the beauty and value of this performance art without understand thoroughly the content and art of words in the songs as well as the precise expression of female singers in their emotions and feelings together with voice and music.
According to the researchers, by mid-2009, there were 63 clubs with about 769 people (including 513 dao and 256 kepand trong chau player) in 14 provinces and cities (Hanoi, Phu Tho, Vinh Phuc, Bac Ninh, Hai Duong, Hung Yen, Hai Phong, Thai Binh, Nam Dinh, Thanh Hoa, Nghe An, Ha Tinh, Quang Binh, Ho Chi Minh City) throughout the country have frequently carried out activities and establish plans for research, documentation, collection, preservation, performance and transmission of Ca Tru. However, the numbers of folk artists who can sing from 10 tunes or more are very rare. At the Vietnamese Institute for Musicology, 7 dances and 42 songs of Ca Tru have been stored. There are 26 files written in Han Nom scripts on Ca Tru and about 25 books on Ca Tru.
Ca Tru has been recognized as major contributors to the culture of Viet Nam. From Ca Tru, a unique poetry was born and became a brilliant position in the Nom scripts literature of the nation. That is Hat noi (recital melody) style which has been popular for centuries. In addition, phach and dan day three-stringed lute has become specific instruments of Ca Tru, contributing to make Ca Tru become a classic vocal music genre of Viet Nam. With the rich of history, the depth of art and the distinct national character, Ca Tru has confirmed its important role not only in Viet Nam but also all over the world.
With consensus, voluntary and full understanding of Ca tru singing community, along with action plans, responsibilities,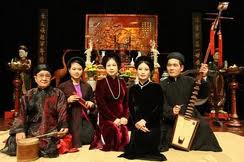 commitments, supports and assistances of authorities at all levels of the state, Ca tru has been safeguarded to ensure its vitality. And with the preeminent features, after four years of waiting, since the Government decided to submit to UNESCO for its consideration, Ca tru singing has been inscribed on the list of Intangible Cultural Heritage in need of Urgent Safeguarding on October 1, 2009 in Abu Dhabi, UAE