Online Support
VitourHanoi 003
Hotline: +84-4.62701639

Tours Discount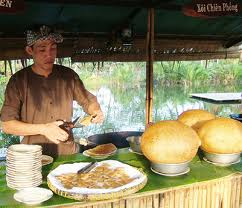 Special food in the South
Special food in the South
Special food in the South

Xoi chien phong (Bloating fried sticky rice)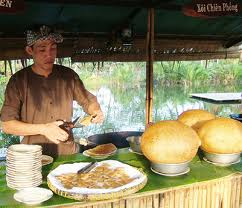 A round plate of Xoi chien phong, placed next to a plate of buttery roasted chicken, is always attractive to anyone. A lump of sticky rice will become a plate of Xoi chien phong as big as a grape-fruit by talent chefs. In the past, Xoi chien phong was offered only in the Binh Duong Restaurant, Dong Nai Province. At present, you can taste the dish in star classified hotels in Ho Chi Minh City.
Lau mam (Mixed vegetable and meat hot pot)

At present, Lau mam folk dish in the past hundred years - become a luxurious specialty in the South. Chau Doc fish sauce made from fresh-water fish, a kind of sweet- smelling and greasy fish, which must be as required to have a delicious Lau mam dish.
Substances to prepare for Lau mam, including fresh food-stuffs such as snake-head fish, "keo" fish, pork, peeled shrimps, eel, beef, and so on, accompanied with at least 10 kinds of vegetable, sometime amounting to 24 kinds of vegetable. They include water-lily, egg-plant, balsam-apple, straw mushroom, bean sprouts, chilly, etc.
When boiled, the flavors of the sauce, which is mixed with citronella, chilly, vegetables, fish, shrimp and meat, are very sweet-smelling. Lau mam roam is scoop out into bowls and served with soft noodle soup, simply but deliciously.
Goi Buoi (Salad of shaddock)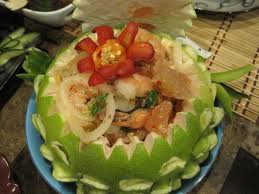 Goi buoi is available at the majority of famous restaurants in Ho Chi Minh City. The major substances to prepare for the dish include shaddocks mixed with fresh shrimps, pork, and dry cuttle-fish. The dish is originated in Miet Buoi, Bien Hoa City.
Goi buoi dish is especially flavored with slightly sour, sweet, peppery-hot and buttery tastes. It is also added with spice vegetable, white sesames, coconut and dry cuttle-fish. Therefore, the dish will be appeared on dining table as a fresh colorful picture and attractive to customers.

Ca tai tuong chien xu ("Tai tuong" bloating fried fish)
"Tai tuong" fish is classified as a kind of luxurious food-stuffs.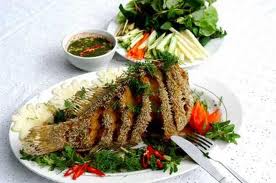 The fish is as white as chicken, delicious and sweet smelling but not crushed. There are two ways to prepare for the dish: Boiled down or bloating fried.
In bloating fried way, pour plenty of oil into pan, wait for the oil to boil before placing the fish in. In boiled oil, fish scabs would be raised up as porcupine's feathers. As serving, place the fish on to the plate, arrange boiled quail eggs around with, fried potato, fresh onion and tomato slices at the edge, season with chilly.
Finally, pour soup and sprinkle fried peanuts and crashed onion on to the fish. The dish is served with sour and sweet sauce of fish. Ca tai tuong chien xu is an unique and luxurious specialty in the South.
Ca nuong trui (Bare fried fish)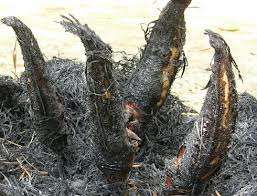 The Southern villagers in countryside areas usually have fried fish in the field. They use a bamboo piece to cross through the fish. Pitch the head side to ground, pile up rice straws at the wind-swept place to smoke fish.
As serving, use hand to remove the burned fish scabs. Fish will become as white as chicken. Place the hot fish on a lotus leaf, take up each piece of fish and dip it in peppery salt, squeeze with some lemon drops, roll in fig leaf or sesame young shoot to experience the dish. Bowl and chopsticks are not necessary. At home, the dish can be served with dry pancake, soft noodle soup and vegetables. Ca nuong trui is a dish that accompanies drinking. It is popular and exciting.
Ca kho to (Dry-boiled catfish)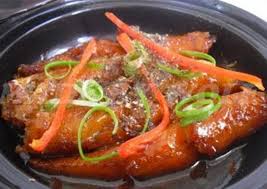 Fish, which used to prepare for the dish, can be catfish, anabas or snake-head fish. Necessary spices include dry garlic, fresh lemon, onion, chilly, sugar, glutamate, fish sauce, grease, and a spoon of pepper and wine.
Although Ca kho to is a popular dish in the South, it is also a cheap specialty. As serving, pick up fish to other bowl, boil the bowl of fish on a low fire and sprinkle some peppers to have sweet-smelling: Keep fire when serving, Ca kho to can be served with such boiled vegetables as shallot, white cabbage, spinach to dip in Ca kho to sauce. It is more convenient to serve it with pickles such as vinegary beet or green pineapple.
Cua rang muoi (Fried salted crabs)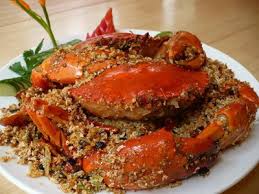 The Westerners, especially those in land-locked countries, usually appreciate the dish as soon as they firstly experience it.
At parties, a plate of bright red Cua rang muoi is usually acted as aperitif. Customers suddenly feel sweet-smelling of spices and delicious buttery flavor of crab at the
same time. Highly qualified chefs in Vung Tau coastal area usually select brackish water crabs with much meat and liver-pancreas. A delicious crab dish also depends on the soup, added to frying crabs in pans, including star aniseed, cinnamon, cardamom.
The connoisseurs immediately experience the dish as it is still very hot, mixed with some lemon drops