Online Support
VitourHanoi 003
Hotline: +84-4.62701639

Tours Discount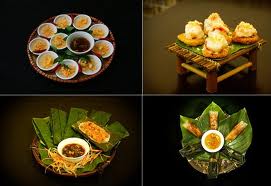 Special food in the Centre
Special food in the Centre
Special food in the Centre
Banh beo Hue (Hue bloating fren-shaped cake)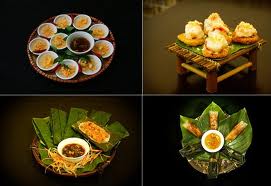 Banh beo is a specialty and indispensable in Hue City.Banh beo is delicious with its core stuffed with small shrimps and sauce made from a mixture of fish sauce, sugar, garlic, chilly and fresh small shrimps, watery grease. Therefore, it offers customers with sweet, buttery and smelling flavors. Without delicious sauce, the cake would become worthless. When serving, it is required to use a tool called Que Cheo (bamboo folk) to pass through the cake, cut into pieces, prick and eat. Customers would be impressed forever with having Banh beo in a green garden while listening to Hue folk song coming from the Perfume River.
Bun bo gio heo (Beef and fork soft noodle soup)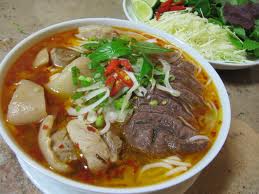 Preparing Bun bo gio heo is very skillful. Pig leg is clean-shaved, chopped into even slices with adequate bone, meat and skin, mixed with lean beefs, and soa
ked with salt, pepper, fish sauce, dry onion and spices.
Bun bo gio heo is proper with all appetites. Even diet people could enjoy the sweet-smelling of beef with less fat of pig leg so as not to be fed up with as serving. Bun bo gio heo is delicious anytime you have it. You could enjoy this specialty of the Central region on Hue City.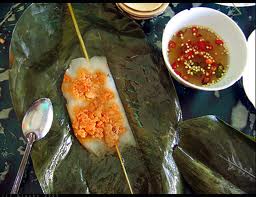 Banh la cha tom (Grilled rice cake with Crayfish)
Anyone who used to experience the dish would never forget such simple cake made from grilled rice cake and Crayfish only.
The cake must be as thin as a leaf but flexible enough. Cray fish must be brittle and sweet. Serving with long jawed anchovy sauce.
Banh la cha tom does not as heavily smell as the majority of the other dishes but gentle, elegant and attractive to customers
Com hen song Huong (Perfume River mussel cooked rice)
Com hen has a sweet-smelling flavor of rice, onion, and grease, as well as strange tastes of sweet, buttery, salty, sour, bitter, and peppery-hot. You have to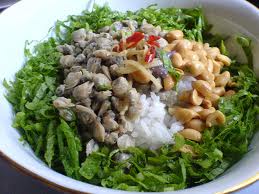 arrive to Hen river-islet in the Perfume River to have the original Com hen. However, you can find out the dish on some streets inHue City. It requires 15 different raw materials to prepare for the dish, including mussel, fried grease, watery grease, peanuts, white sesames, dry pancake, salted shredded meat, chilly sauce, banana flower, banana trunk, sour carambola, spice vegetables, peppermint, salad, etc.
Com hen is always attractive to many customers because it is tasty and, at the same time, economic to anybody.

Cao lau Hoi An (Hoi An vermicelli)
Cao lau as a dish has its "own kingdom", therefore, customers are likely to be served with it only in Hoi An.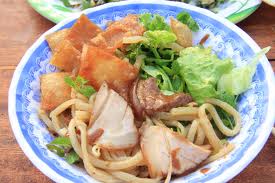 Cao lau noodles are carefully made from local new rice not stocked one. Water used to soak rice must be taken from wells in the Ba Le Village; noodles thus will be soft, enduring and flavored with special sweet-smelling. In addition, meat used to prepare for Cao lau must be loin or trotter.
Dry pancakes used must be thick and have much sesame. Greasy coconut quintessence and bitter green cabbage are also indispensable. The so-called genuine Cao lau Hoi An must satisfy all above requirements.
Banh trang cuon thit heo (Dry pancake roll with pork)
Coming to the Central region, you are offered with the service of Banh trang cuon thịt heo.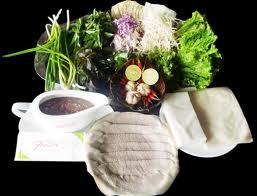 A big plate of fresh vegetables with a peppery-hot red chilly, a plate of boiled lean and fat meat, a bowl of fish sauce, and a plate of dry pancakes are displayed on the dining table. Customers have to serve themselves with all of the 10 substances mentioned above.
Banh trang cuon thịt heo is considered as not only a daily dish but also likely an artistic specialty of the Central citizens.

My Quang (Quang soft noodle soup)
Similar to rice noodle and chicken or pork soup (Hu tieu),My Quang is a variety of Pho (rice noodle soup), because the noodles are made from rice a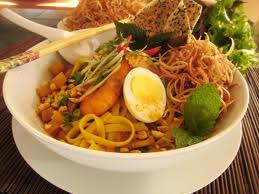 nd soused with soup as serving. The soup sauce, which is added, comes from a mixture of flavor from beef or pork bone, shrimps, crabs, chicken and duck. The noodles are yellow, somewhat distinct from Pho. However, the main reason for having this color is to be in hannony with the colors of shrimps and crabs.
The best My Quang is made from rice in Phu Chiem, shrimp in Cho Dai and spicy vegetables in Tra Que. As a strict selection of substances to prepare, My Quang has been dominant in almost all of culinary markets in the Central provinces and expanded to Ho Chi Minh City with a high qualification of a Quang Ngai's specialty.