Online Support
VitourHanoi 003
Hotline: +84-4.62701639

Tours Discount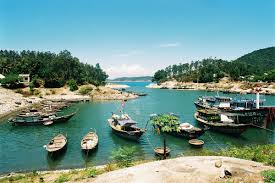 Waterways of the Mekong Delta
Duration: 3 Days 2 Nights
• Highlights: DAY 1: HO CHI MINH CITY - CHAU DOC / DAY 2: CHAU DOC - CAN THO / DAY 3: CAN THO - HO CHI MINH CITY
DAY 1 - HO CHI MINH CITY - CHAU DOC (L)
Leave Ho Chi Minh City and head southwest for the 8-hour drive to Chau Doc, on the Cambodian border. Break the journey at Sa Dec, a delta town famous for its cultivation of exotic fruit and flowers, to visit the orchards and garden of Mr Tu Ton. Sa Dec is a charming, authentic Mekong Delta town that seems to have escaped the modernization that has swept much of Vietnam. Immortalized by the French writer Marguerite Duras who spent 04 years here from 1928 – 1932, her novel The Lover went on to win the 1984 Prix Goncourt prize for literature. On arrival in Sa Dec, visit the charming Kien An Cung Pagoda before having lunch in the former home of Huynh Thuy Le who is the main character in Marguerite Duras' novel.
Continue to Chau Doc and transfer to hotel on arrival.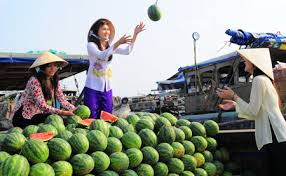 In the end of afternoon visit Sam Mountain, an important pilgrimage site that is frequently visited by pilgrims from all over the Mekong Delta. There are numerous of pagodas and temples around Sam Mountain and reaching the peak is the highlight of the visit. The views from the top are spectacular (weather permitting) and you can easily look out over Cambodia.
Overnight in Chau Doc.
DAY 2 - CHAU DOC - CAN THO (B)
This morning visit a local market overlooking the confluence of three rivers, and later take a boat to Chau Giang District where a tiny mosque serves the local Cham community. The Cham minority once dominated coastal Vietnamfrom the 2nd to the 9th centuries. The Chams also practice silk weaving and you may have the opportunity to see them at work. You'll visit a beautiful Khmer temple, and later visit the floating houses that double as catfish farms, now a huge industry for the country.
Return to land for the drive to Can Tho. En route, visit the bamboo basket-making hamlet of Long Thanh before continuing onto Can Tho. Transfer to your hotel on arrival.
Overnight in Can Tho.
DAY 3 - CAN THO - HO CHI MINH CITY (B)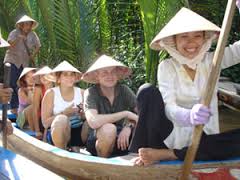 Wake up early for a boat cruise to the colorful Cai Rang floating market which bustles with wholesalers on big boats. You will find the beauty of the crowed market in early morning market hours; larger sized boats anchor and create lanes that smaller boats weave in and out of. The main good sold here are fruit and vegetables and every boat has a long upright pole at its bow from which samples of the goods for sale are hung. The waterway becomes a maze of hundreds of boats packed with mango, bananas, papaya, pineapple, and even floating pho vendors.
After your cruise it's a 4-hour drive back to Ho Chi Minh City where you will arrive late afternoon.
PLEASE CONTACT VITOURS HANOI FOR MORE INFORMATION !